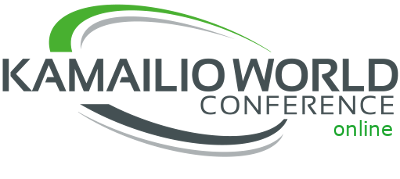 September 7-8, 2022
21 Years Kamailio Development Celebration!
20 Years Of Open Source Kamailio!
10 Editions Of Kamailio World!
Learn
Presentations about what is new in Kamailio project and its common use cases.
Connect
Meet the developers and community members.
Discuss
Engage with the other participants to chat about Kamailio and RTC space.
Celebrate
20 years of continuous development! Time for a party!
The sessions will be streamed live via YouTube KamailioWorld channel:

https://www.youtube.com/c/KamailioWorld/

Discussions on Matrix Chat Room: #kamailio:matrix.kamailio.dev
Questions for speakers can be asked also on YouTube chat channel during the live stream.
The presentations will be done in the video conferencing room:

https://meet.kamailioworld.com/live

Note that access to the live conferencing room may be restricted if the number of attendees is high and the quality decreases.

More specific details will be posted soon!
Schedule
Not yet final.
All times are in UTC.
Wed, Sep 7, 2022
Thu, Sep 8, 2022

12:50-13:00 ⚛ Welcome

12:50-13:00 ⚛ Welcome

13:00-13:30 ⚛ Kamailio - Last Year In Review

→ Daniel-Constantin Mierla, Co-Founder Kamailio, asipto.com
Present the latest features added to Kamailio and what is new in its ecosystem.

13:00-13:30 ⚛ Driving RTPEngine With Kamailio

→ Yufei Tao, Principal Tao Communications
A talk to learn some basics about interactions between Kamailio and RTPEngine, giving some practical examples. Hopefully this will introduce to new users how Kamailio and RTPEngine can work together, plus tips and tricks to the advanced ones.

13:30-14:00 ⚛ Build VoIP Clusters With Kamailio, NATS and Lua

→ Seven Du, VoIP Consultant
Sharing from 15+ years of experience of building various VoIP systems using open source solutions, introducing applications and tools that can be used together to build a VoIP cluster which scales from a tiny IP-PBX to a VoIP cloud: xTra - a Lua framework works both in Kamailio and FreeSWITCH (also in Nginx for WebRTC/WebSocket Proxy); NATS - clustering, bi-directional controlling between Kamailio and FreeSWITCH using Pub/Sub; XUI - Web UI for Kamailio and FreeSWITCH configurations.

13:30-14:00 ⚛ VoLTE And VoNR With Kamailio Inside Open5GS

→ Sukchan Lee, Founder Open5GS Project
Open5GS is an open source project that simultaneously supports LTE and 5GC based on C language that complies with 3GPP Release 16. This presentation introduces VoLTE and VoNR supported by Open5GS and explains how to build a VoLTE environment using Kamailio. We will then discuss how the open source community can use VoNR using Kamailio with Open5GS.

14:00-14:30 ⚛ Basic NAT Handling

→ Fred Posner, VoIP Consultant, lod.com
A common question on the mailing lists is handling of different NAT scenarios. In this talk, we discuss various ways of how Kamailio handles NAT.

14:00-14:30 ⚛ Kamailio At Scale – Best Practices For Configuration Management

→ Henning Westerholt, Core Kamailio Developer, gilawa.com
With growing requirements for performance and features its common to deploy several different Kamailio services in your network. It can be challenging to keep the different services synchronized without to much overhead or configuration drift. This is especially true for distributed services or more complicated infrastructure. The talk proposes best practices in configuration management for Kamailio services, with different examples. The target audience of the presentation are developer or system administration experts that are designing new systems, reifactoring existing infrastructure or generally like to know more about the Kamailio support in this area.

14:30-15:00 ⚛ SIP Over TLS With Kamailio Using WolfSSL

→ Richard Shih-Ping Chan, Kamailio Developer
This talk introduces the new module tls_wolfssl, presenting the reasons for developing it, its current status and how the community can help improving it.

14:30-15:00 ⚛ New Kamailio Dialog Extensions

→ Carsten Bock, Core kamailio Developer, CEO ng-voice.com
Recently, we added some more features to the Dialog module. These extensions allow you to do a lot of new things from the Kamailio script which can be useful in various different contexts. The main driver - as always for me - for these developments are requirements from our IMS deployments. However, it can also provide very useful functionalities outside the IMS context. In this talk, I will look at the new functionality, what you can implement using them and why this is useful.

15:00-16:00 ⚛ What Changed In Deploying And Operating Kamailio During The Last 3 Years

→ Federico Cabiddu, Kamailio Developer, libon.com
→ Markus Monka, Kamailio Management Team, sipgate.de
→ TBA
An open discussion panel to look at how Kamailio deployment and operational procedures evolved during the last three years affected by the pandemic. With the team no longer in the office, restricted access to data centers, what was needed to ensure proper security and availability of the services?

15:00-15:30 ⚛ End To End Testing Of Kamailio And RTPEngine Using VOLTS

→ Ihor Olkhovskyi
A presentation about end to end testing of both SIP and media planes to detect regressions and eventual new issues after VoIP systems upgrade.

15:30-16:00 ⚛ Full Control Of SIP Message Content With KEMI

→ Daniel-Constantin Mierla, Co-Founder Kamailio Project, asipto.com
KEMI offers powerful scripting languages for defining Kamailio SIP routing logic. In this talk, we look at the tools available via KEMI to update the content of the SIP message, from the usual SIP header management to complete replacement of the SIP message. Same operations are available in the native scripting language, too, but with this presentation we try also to highlight where KEMI brings in more flexibility.

16:00-17:00 ⚛ Open Discussion: Ask Me Anything

→ Kamailio Developers & You
Discuss about present and future of Kamailio project.
Any feature missing? Any suggestion to improve the collaboration between users or developers? Are there components that should be simplified?
You do not know how to use it in different scenarios or if it suits your needs? Some of us may have hints for you!

15:30-17:00+ ⚛ Celebration Party

→ Everyone
This day Kamailio project celebrates 21 years of development, its first code commit was pushed on September 3, 2001. Furthermore, the project was released to open source space in 2002, being now 20 years since then. Ultimately, this is the 10th edition of Kamailio World Conference!
Do a birthday speech or just engage in a free discussion with people around the world, while enjoying a drink or a cookie from the comfort of your office or living room sofa.
Content
Presentations
by experienced kamailians
what is new in Kamailio

typical use cases

tips and tricks

integration with other services
Open Discussions
with all kamailians
know the community members

ask me anything with developers

what is new in the RPC space

plans for the future
enjoy a drink

... and a cake

... from your office or living room

... with everyone around the world